Here's What You Missed – Even if You Were There
Here's What You Missed – Even if You Were There
Say what you like about Las Vegas (and I know you will), it's …. over the top.
The Marketing Analytics Summit was way wonderful this year and don't take my word for it.
June Dershewitz tweeted:
So long, #MASConf! Made some great new connections, learned a few things and enjoyed delivering my own talk (may it inspire positive change). Thank you @jimsterne for the chance to do this.
That reminded me of a conversation I had with Jennifer Veesenmeyer. She was so articulate, I asked her to repeat herself. Jennifer has three criteria for a conference:
Meet someone to stay connected with long after the conference

Hear an idea that challenges her thinking/perspective

Gain one actionable idea or information that changes her behavior back at the office
A good conference delivers one – she said – three is knocking it out of the park.
I can think of several new connections; one of whom I acknowledged by welcoming her to the Marketing Analytics Summit tribe.
I had my thinking about building a content strategy challenged by Andy Crestodina, how capturable emotional signals represent a new data stream by Diana Lucaci, and how sophisticated machine learning is getting for marketing by Krishna Kallakuri.
I also walked away with a slew of things to do better next time…. so… Trifecta!

Lessons from the Sessions
Mariia Bocheva wrote up some helpful recaps in a couple of posts: 
The first day of Marketing Analytics Summit was amazing with its networking and insights:
According to D&B only 16% of companies consider data they have "very good". But there are ways to monitor data quality and decrease the defect rate.

Marketers who link marketing metrics to business results are 3X more likely to hit revenue goals than those who don't. Success plan from Mower will help align marketing with business objectives.

Marketing and processes are strongly connected. Focus on revenue generating processes first.

Using brain science you can really change the experience your customers are having with the brand – try to ease the cognitive load, because bad web experience extrapolates to the brand.

Use Google Search results as your home page, because most of the info people are getting from it.

Looking forward to today's sessions and speaking about how we've analyzed the performance of our analytics to improve process efficiency. 
The next day, she wrote:
Here are some takeaways from the second day of the Marketing Analytics Summit:

There are 3 main problems with data: literacy, silos and lack of trust. Only 35% of companies trust the data they have. These problems can be solved with interactive data inventory, data dictionaries and data catalogues. 

To understand how people perceive our marketing you need to beware of limited working memory, confirmation bias, conformity to the norm and other biases.

There is no such thing as an actionable KPI. You always need a context.

Only 8% of data lakes have moved from the (Proof of Concept) to production. It's easy to build a lake, the challenge is making it usable.

Building reports is a waste of time because 90% of them will never be viewed, 90% of read reports are misinterpreted, 90% of understood reports are never acted on.
Steve Zakur posted on the internal Digital Analytics Association community (shhhh – don't tell anybody that I'm sharing this outside!):
Like many of these events, it's often not what happened at the meeting but who you met. Valerie, Steve, the other Steve, Hector, Craig, Joe, June, and a host of others provided insight, experience, and levity at an event packed with valuable content. Thanks to Jim Sterne for putting together an excellent event. 
A couple of things I observed: 
Our community is highly diverse and engaged. I belong to several industry orgs and the DAA blows them all away.

The conference was a great balance between the soft side (e.g. managing your career) and the quant stuff (Entropy measurements anyone?)

If you have a chance to see Rand Fishkin speak, do so. This is a version of the presentation we saw. The content is good, but don't miss the live show if he comes to a city near you. 

Be fearless about having discussions with people you don't know – I met a variety of folks from a diverse set of industries and job roles. Some of the challenges I heard about were common but there was always a unique spin that I'm sure will inform my thinking about product going forward.

Go to dinner with strangers. That was probably the best event.

Vegas is more and more like Disney every day you just lose your money in different ways.
Thanks again to Jim and the Rising Media team for a wonderful event. See you next year!
My Takeaways
And me? I took a bunch of notes. Too long to include here. Each deserves a blog post.
The 'why' of our jobs is insights, the 'how' is what keeps us coming back.
Statisticians can be funny – and so can economists!
Data is data, but the knowledge of Data Lore (no, not from Star Trek! Think Data Lineage. Think Data Journey) is what makes an analyst so valuable to an organization. That's where the Data Context lives. In the analyst's head!
Discussion groups are always a hit.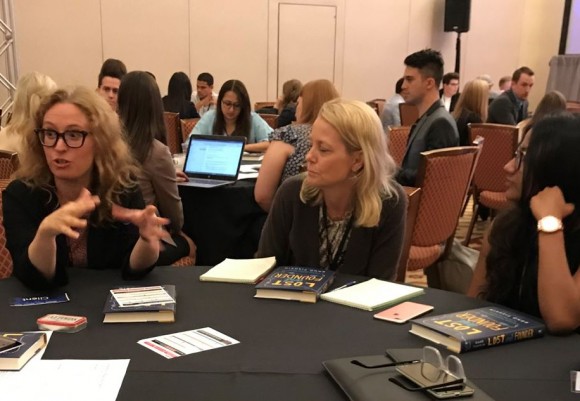 Try to get your hands on correlatable data that's outside the typical Digital Analytics realm. It's the best way to get to know the business, the industry, and your customers.
Entropy is the minimum number of questions to identify all possible values in data.
We should all live in fear of Google.
When the going gets tough, there's always a baby goat stampede somewhere.
Can't wait to do it again!
Jim Sterne
Founder
Marketing Analytics Summit
---
Get on board as a blog or media partner, share the latest news and earn complimentary tickets: contact [email protected]
To learn more about our sponsorship opportunities, contact [email protected]
---

We look forward to seeing you at Marketing Analytics Summit 2020!