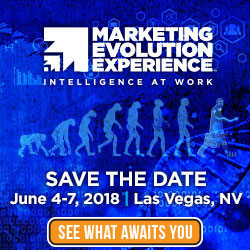 Marketing Analytics Summit (MAS) Debuts in Las Vegas on June 3-7, 2018 – A Marketing Experience to Upgrade Your Ability to Harness Data for Marketing
Rising Media, Inc. announced the launch of Marketing Analytics Summit (MAS), a new kind of marketing conference that challenges attendees to engage in career-shaping encounters to transform them into data-driven marketers. Marketing Analytics Summit is set to debut in Las Vegas on June 3-7, 2018.
(Las Vegas, NV – February 7, 2018) – Rising Media announced the launch of Marketing Analytics Summit (MAS), a new conference dedicated to driving meaningful value and empowering marketers of all stripes to upgrade their ability to harness data for marketing.
More than a conference, MAS is a transformative, lean-in phenomenon where you will construct the next you. This is a career-shaping experience. Here are just some of the exciting and interactive activities to engage your brain and help you excel as a marketer:
Your Marketing Utopia – Quantified: Time to create your own, soundly orchestrated, Marketing Success Plan
Advice. Ever: You are surrounded by people who have been there, done that, and lived to tell the tale. And YOU are one of them. Glean valuable advice and offer some as well.
What Happens in Vegas Can be Swayed by Data: Hone your analytics chops by slicing and dicing selected, Las Vegas-specific data sets to use Data for Good.
Superweek's Golden Punchcard Comes to the USA: Anybody can present an idea on how to best use analytics and the winner is chosen by the attending audience. Who decides who's gonna win? The audience!
It's Debatable: All is not roses in the world of online marketing and analytics. It's time to get into a serious discussion about the topics of the day.
Dinner with Strangers: This is your best chance to prove that you are serious about meeting your peers. Sign up for a Dutch-treat dinner and we'll tell you which very nearby restaurant is awaiting you.
Digital Analytics Association Quanties Awards & Party: Here's where we recognize the best and brightest individuals in the industry.
Marketing Analytics Summit brings together the most innovative marketing thought-leaders from companies such as Comedy Central, Ticketmaster, Condé Nast, Intuit, Walmart, Nordstrom, Hilton, ZipRecruiter, and more, to explore and clarify how digital analytics, customer insight, and artificial intelligence are at work in marketing. A robust array of interactive learning experiences and action-oriented trainings are geared toward empowering marketers to multiply their skills with the latest thinking, newest developments, and most current examples of data enriched marketing with the ultimate goal of helping you evolve as a marketing professional.
In addition to a series of mind-stretching, not-boring-lectures, MAS attendees are invited to participate in Too Much Fun Activities, such as:
Indoor Skydiving
Xterious Escape
Pole Position Raceway – Indoor Karting
VR Adventures
Marvel Avengers S.T.A.T.I.O.N.
CSI: The Experience
VooDoo Zip Line at The Rio Hotel
Marketing Analytics Summit is the brainchild of Jim Sterne, an internationally known speaker and consultant to Fortune 500 companies who previously founded a leading global marketing analytics event, eMetrics Summit in 2002. Sterne is also a Co-Founder of the Digital Analytics Association, and has authored numerous digital marketing books, including the Devil's Data Dictionary and most recently, Artificial Intelligence for Marketing: Practical Applications.
"After 15 years of producing a conference that helped shape the digital analytics industry, it was time to create the sort of event I wish I could have gone to when I was a young professional with leadership on my mind," said Sterne.
He continued, "The Marketing Analytics Summit is a rare combination of experts who are really mentors, activities that are really career-building, professional network development that is really personal, and an opportunity for individuals to get way out of the box to discover what they can become. This is the place to learn about possibilities and make the connections that will last a lifetime."
Topics that participants will explore include Data Driven Culture, Digital Analytics, Customer Centricity, Marketing Science, Attribution, Attracting Attention, and AI for Marketing.
To learn more, see the full agenda and speaker lineup, and register for Marketing Analytics Summit, visit marketingevolutionexperience.com.
If your company is interested in sponsoring or exhibiting at Marketing Analytics Summit, visit marketingevolutionexperience.com/exhibiting-sponsorships.
About Rising Media
Rising Media is a global events and media producer excelling in Internet and technology-related events and content. Events include Inside 3D Printing, RoboUniverse, Virtual Reality Summit, Data Driven Business, Building Business Capability, Predictive Analytics World, Deep Learning World, Marketing Analytics Summit, Digital Growth Unleashed, Email Innovations Summit, Inside Fintech, AllFacebook Marketing Conference, All Influencer Marketing Conference, Search Marketing Expo, AM Days, Influencer Marketing Days, Future of Immersive Leisure, Global Online Marketplaces Summit, SEMY Awards, Search Marketing Expo, and Web Effectiveness Conference in the USA, United Kingdom, Germany, France, Italy, India, China, Korea, Singapore, Australia, Brazil.
For more information, please visit www.risingmedia.com.
For press inquiries, please contact [email protected].