Four Marketing Analytics Special Guests on Stage!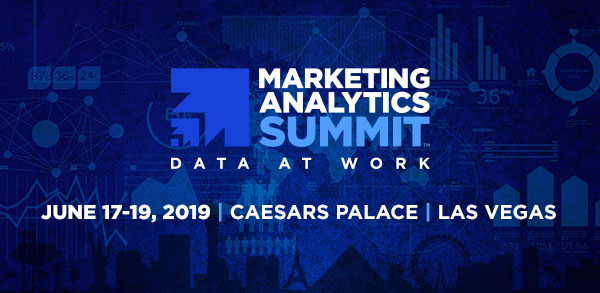 Four Must-See Keynotes
At its 17th edition, Marketing Analytics Summit (Las Vegas, June 17-19, 2019) will once again be THE place to share the latest marketing analytics techniques, technologies, and trends, and to learn how digital analytics, customer insight, and machine learning are at work in marketing. Join our community predicated on helping one another succeed.
---

Kamelia Aryafar Ph.D
Chief Algorithms Officer

Experiment-Driven Culture: AI and Machine Learning in E-Commerce

Machine learning and artificial intelligence play a crucial role in modern-day e-commerce platforms. In this talk, Kamelia will walk through practical examples of machine learning and artificial intelligence in e-commerce including learning to rank and click-through rate prediction using deep learning techniques. She will also explain the requirements of building a culture to enable full integration of machine learning and artificial intelligence with business through experimentation and share lessons learned along the way.
Mary Owusu
Vice President, Analytics and SEO

The One-Page Marketing Success Plan

How do you meaningfully align all the moving parts of any marketing campaign to a specific business outcome? How do you identify the technical, operational and creative requirements necessary for the success of the campaign? How do you clearly share your vision (and needs) so upper management can understand it, digest it, and buy in? You asked the right woman. Mary created the Marketing Success Plan because of one of the striking dysfunctions we marketers live with: We want to spend more time on analytics to drive business performance, but confidence in the role of analytics is mediocre at best. Mary shows you how to enumerate the strategic, tactical, technical, operational and creative requirements necessary for success. The result is a soundly orchestrated Success Plan that not only manages your marketing KPIs to your desired business outcomes, but also sets your projects up for success from the very beginning. And it all lives on an executive-friendly sheet of paper.
Laura Patterson
President

The smartest experts and the latest tools will not cut it without an investment in robust processes. Laura unwraps the riddle of why companies flunk Process 101. (Spoiler Alert: by focusing on cost rather than customer value and revenue.). Learn how heroes reap the value of processes and how to measure the success of your marketing methods. This technique is not just for your email, search, and social marketing campaigns, it also applies to digital analytics, customer experience, voice of customer, segmentation, and testing methods and logistics: all of your strategic marketing. Laura shares how the best organizations map their processes, so you can be constructive the minute you return to your desk.

The Central Role of Processes

Which Processes Should You Care About First

Best Practices of Process Mapping

Measurement for Your Processes

Tools You Can Use on Monday
Rand Fishkin
Founder

The Four Horsemen of the Web Marketing Apocalypse

Web marketing certainly isn't going away, but four forces are combining to radically change how we've approached our work the last ten years vs. how we'll have to in the decade ahead. Google's removal of SEO opportunity, Facebook ending referral traffic, falling ad impact and rising competition spell an end to the "best practices" of the 2010s. In this presentation, Rand will look onto the horizon to see what new tactics and strategies are emerging from the ashes, and what we'll need to know to stand out in the years ahead.
---
Be part of something special!
Lessons from Experts

How-To Guides

Mentorship Interactions

Problem-Solving Sessions

Lasting Professional Relationships

A handful of exhilarating keynotes

An exhibit hall full of tools and services

A series of breakouts where business strategy meets data

A mix of workshops of deep-dives by experts

Significant Learning
---
Founded on the premise of mutual respect and support, the Marketing Analytics Summit started in 2002, back when the Internet was young and web analytics was new. We recognized the need to help each other invent an industry, so we (the audience) created the Digital Analytics Association, now 5,000 strong.
Marketing has changed since the days of Mix Modeling and Market Research. The digital world gave us new, dynamic data sets, and new tools to measure and optimize marketing efforts. Now, as we enter the world of Machine Learning, the spirit of mutual assistance and encouragement remains the core principle of this event.
---
Learn more about our sponsorship opportunities: contact

[email protected]

Get on board as a blog or media partner, share the latest news and earn complimentary tickets: contact

[email protected]

We look forward to seeing you at Marketing Analytics Summit!