What You'll Miss if You Don't Go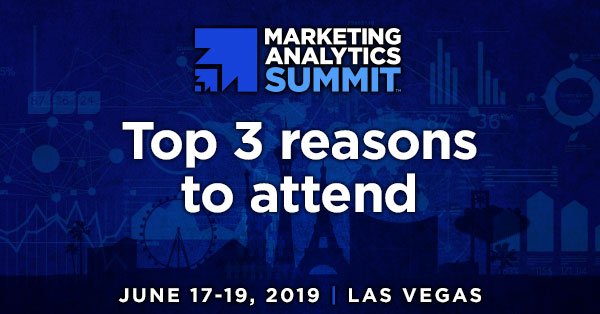 Top 3 Reasons for Marketing Analytics Summit
What You'll Miss if You Don't Go
I received one of those emails that stopped me from doing whatever it was I was supposed to be doing, before I even looked at Twitter:
Good day!
I would like a little help convincing our company to send a couple of us to the Marketing Analytics Summit. What would be the top 3 benefits to attend this conference for an analytics team? Highly appreciate your response.
As a marketing guy, I've tried to be as clear about this as possible for 17 years. You may have even seen the email we sent out: How to Convince Your Boss that the Marketing Analytics Summit is a Good Investment. 
But when I got this question, I realized I had come up with too many reasons! Which of these are the Top 3 for you?
Analytics is at the heart of marketing.

Increase your familiarity with marketing analytics – exposure breeds confidence. 

Meet the people who can help you today – and down the road when you're feeling like it's just you against the data.

Make new friends. No, really – people say they come back because their friends are here!

Get great advice on improving your professional trajectory.

Learn from the mistakes of others.

See the latest and greatest tools and ask vendors the tough questions.

Up your game presenting insights to management. 

See how others have created a data-enriched culture. 

Get comfortable with machine learning tools and techniques.

Learn the secrets to prioritizing ad-hoc analytics requests.

Find out how leaders are fine-tuning attribution. 

Discover a world of professional options and steer your career.


Which of these do you think are the Top 3?
Win my book.
Email me right back at [email protected] and I'll put in your name to win a copy of my latest book: Artificial Intelligence for Marketing: Practical Applications. Free is good, right? 
And I will send you a 10% discount on the Marketing Analytics Summit!
Win, win!
Jim Sterne,
Founder
Marketing Analytics Summit