10 Conference Funding Approval Tips..plus 1!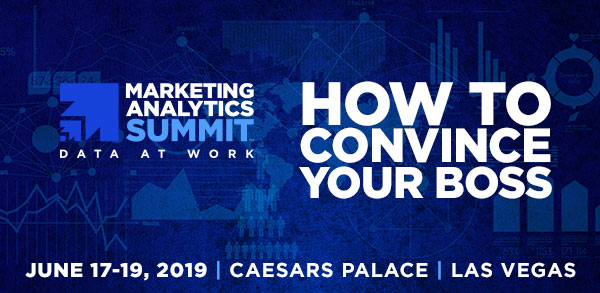 How To Convince Your Boss that the Marketing Analytics Summit is a Good Investment
Sometimes it's tough convincing the boss to let you spend time and money on a conference. Here are some ideas that will help:
1. Make a Deal
Explain how the Marketing Analytics Summit is full of presentations, workshops and lab sessions that show how to raise revenue, lower costs and increase customer satisfaction. Then make a deal. If you can go to this conference, you will come back with five eye-opening ideas, tried and true techniques or proven processes that will demonstrably improve your marketing ROI. How will you provide evidence that these ideas are working? The Marketing Analytics Summit is all about measurement and analytics, all the time.
2. Make the Deal Numerical
Agree that if the boss will let you go, you will commit to
improve (some KPI)

by (some percent)

in (some time frame)

after you get back.
3. Find Another "Boss" – Thanks to Liz Donaldson at USAA
Seek out the groups in your organization who benefit from your knowledge, then find their boss. Prepare a solid business justification. Email and visit potential bosses in person. Borderline on being a pest. They may finally approve the expense just to make you go away. Always have a list of spare bosses in your pocket in case you need them. Before you know it, you have an email thread going between bosses who are willing to contribute to the expense.
Show enthusiasm, sincerity, and volunteer to sleep in your car, share a room or walk to the conference to reduce the expense. Assuming success, follow-up after the conference with the same list of target bosses, regardless of their contribution. Make sure you have memorable and timely information sharing sessions after the conference. Remember, you want to attend the conference again next year.
4. Feed Them – Thanks to Alex Cohen at Goldman Sachs
Bosses love efficiency. Bosses also love food. If you combine the two, you've got a powerful selling point for approval: Host a Digital Analytics Lunch & Learn. When you invite your boss, promise to create a presentation about what you'll learn at the Marketing Analytics Summit – which you will deliver with tasty sandwiches – to your coworkers. Your boss gets to rationalize the expense as training for the whole department or company! (You can even use actual cookies to talk about cookies, because everyone likes dessert).
5. Find a Different Color of Money
Budgets are tight all over, but not all budgets are created equal. While your department may not have any discretionary coin for analytics, there may be a different fund somewhere that can cover a few days of a conference. Talk to your colleagues about possible resources available under different names:
Education

Training

Seminars

Conferences

Travel

New Projects

Special Projects

Software Evaluation

Infrastructure Improvement

Executive Leadership
You never know until you ask.
6. Tough Times Call for Tough Measures
You've been reading about the Impending recession. NOW is the time to get your measurement act together. We have more work to do than ever before and we're still short on resources. Shouldn't we be taking a hard look at whether the work we're doing is the right work to be doing?
7. Stake Your Reputation on It 
You know your department is capable of great things, so let's quantify it! It's time to implement some specific metrics that will show how the work we're doing is making a difference. That's going to help us grow our budget for next year.
8. Where Else Can We Find Good People?
We're in the process of ramping up our analytics department and we need to hire new resources. Spending a few days with a bunch of experienced people is a much better way to get to know them than interviewing each one for an hour.
9. Where Else Can We Train the Good People We've Got?
The audience from the Marketing Analytics Summit created the Digital Analytics Association. It has two days of workshops and two days with three tracks covering the whole spectrum of online success measurement. There's no better way to get all of our people up to speed this fast. PLUS, there's a Bring the Team Discount!
10. Highlight Some Specific Goals
This is where you get to put yourself on the line. Show your boss a list of your personal objectives. Include things like:
Bring back three different ideas on how to solve our ______ situation.

Learn how others have approached their ______ situation.

Meet three people to add to my personal network who are knowledgeable about _____.

Identify the two technologies we should seriously consider in the next three months.

Go to three sessions that are outside my area, so I understand the Big Picture better.

Find no less than three consultants who can help us.
11. Need to Convince Yourself?
Wandering the halls of your business is an unlikely way to find somebody who understands your concerns and your worries about integrating web data with customer relationship management data and customer satisfaction data. The Marketing Analytics Summit is full of them.
Got Tips?
Tell me what you said to convince your boss and help others as they beg, beseech and entreat their bosses to fund their participation. Thanks in Advance!
---
 The Agenda

Among the companies on stage this year: Cigna, LendingTree, New York Times, Overstock, Twitch,  along with some of the best and brightest in the digital analytics industry.


We look forward to seeing you at Marketing Analytics Summit!