Feedback from Marketing Analytics Summit 2018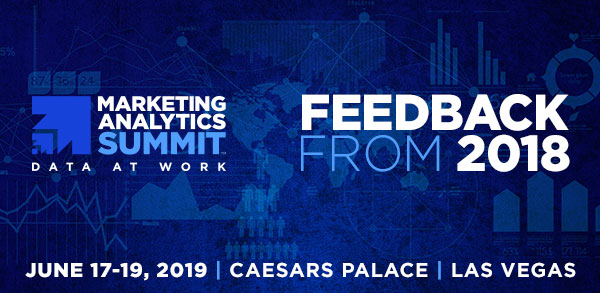 What did attendees like?
Meeting new people and vendors and learning, learning, learning

Meeting leaders within the industry that I had previously only known by name

Learning about trends in the space but also reinforcing what we already knew

Getting to meet fellow professionals

I like the case studies and actual tactical advice from experts on analytics and marketing

Catching up with people

The amount of varied content was great – something for everyone

The speakers were very engaging and had highly relevant content

Different tracks to choose from on the fly without signup

Learning from all the experts

Low on sales, high on quality content

Got answers to all of my questions

Helpful how-to talks with usable tips

Sheer number of connections I made

The deep-dive workshops

The more interactive, hands on elements of sessions

The speakers were truly interested in helping advance everybody (vs. themselves)

Connecting with like-minded people

Very engaging and practical

The opportunity to talk to people who do the same work but for different industries

The handouts with to do lists, models, etc.

Fantastic takeaways

Talking with people I wouldn't normally talk to in a way that's meaningful for my career

Diverse speakers and topics
Improve the decision making at your company by registering for the Marketing Analytics Summit today!